I love reading books aloud to students and seeing how happy stories make them. This is a great way to build a great classroom culture at the beginning of the school year. If you want to see some awesome read alouds for back to school then you are in the right place!!
1. The Night Before First Grade by Natasha Wing
This is a great book to read to first graders. It talks about the previous year in kindergarten in the book. It helps the kids to think about the previous year and a brand new year. It also discusses it being okay if you are not in the same room with a friend from the previous year.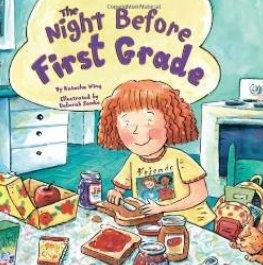 2. Mouse's First Day by Lauren Thompson
This is a good book that has surprises on each page. The kids guess what mouse sees at school just by looking at a small piece of the item. For example: a pencil. Just a fun read aloud.
3. First Day Jitters by Julie Danneberg
This book has my name written all over it. I think I am more nervous on the first day than my kiddos. I truly have sweaty palms and the nervous shakes. But after a few weeks its smooth sailing…..hopefully.
4. Howard B, Wigglebottom Learns to Listen by Howard Binkow
I LOVE LOVE LOVE this book! My mom bought it for me and it so good with teaching students the proper rules for school. In the beginning of the book Howard doesn't listen. It shows the bad things that could happen from not listening. By the end of the book, it shows Howard listening. He is happy at the end because he is a good listener.
5. David Goes to School by David Shannon
This book is a must for the beginning of the school year. It goes well with a rules lesson. Each page shows a rule that David breaks. At this time, for each page, we discuss why David should not act this way. This book really helps the students think about good vs. bad choices.
I have the perfect sort to go with this book. Click here to get it for free!
6. Chrysanthemum by Kevin Henkes
I like to use this book to discuss bullying and names. It is important to teach students about bullying because even at a young age it happens a lot. We have a lot of fun using this book to complete activities using each student's name.
7. Pete the Cat by Eric Litwin
This is the newest book I have added to my collection. We had so much fun jammin with Pete. I love my BLUE shoes! I love my BLUE shoes! They really danced along and sang the song. The cd of the book is awesome and it was a fun book for the first week of school.
8. The Kissing Hand by Audrey Penn
I think this book will forever be my favorite back to school book. It is just so sweet and the students really love the kissing hand secret. I don't know if this book was out when I was little but I know I would have loved it. I definitely needed it! I was such a daddy's girl and wanting to stay at home with him.
9. Brown Bear, Brown Bear, What Do You See? by Eric Carle/Bill Martin Jr.
What more can I say? One of the most popular children's book I know. Love it!!!
10. Chicka Chicka Boom Boom by Bill Martin Jr.
A great book for letter recognition and matching uppercase/lowercase letters. The video is super cute! It is on YouTube here!
I hope these read aloud suggestions help make back to school a breeze!
Pin the image below for later!
If you have not already, sign up for the Flying into Learning Newsletter by clicking HERE!

Thanks for Flying By! Let me know how I can help with engaging resources to help your students SOAR!